FILIPINO MARTIAL ARTS HISTORY
(Excerpted from Eskrima Kali Arnis by Dionisio Cañete)
Arnis, the only known traditional Filipino martial art, has its roots deep in the culture and history of the Filipino people. The exact date of its origin, however, remains unclear. Traces of historical evidence reveal that this manly art of self defense – involving the use a single stick, two sticks, a long and a short stick, a dagger, or some other blunt instrument had no doubt existed long before the arrival of the first Spanish colonizers in the country.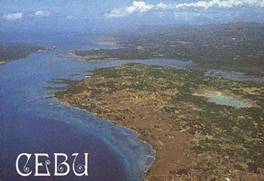 The first known Filipino hero, Lapulapu, was believed to be one of the foremost masters of arnis, which was known during that time in the native dialect as pangamut. In fact, Lapulapu had vigorously trained and prepared his men for "showdown" fights against his enemies long before his historic battle with Ferdinand Magellan on April 27, 1521, on Mactan Island. It was no surprise then, that when the first circumnavigator of the world tried to subdue the recalcitrant Lapulapu, who refused to come meet him in Cebu, Magellan and his men were met not with a hail of bullets but with wooden instruments, spears, and bolos. It was ironic that when the smoke of that epic battle cleared, the Spanish conquistadors more "modern" weapons were no match for the crude wooden arms of Lapulapu and his warriors. Magellan lost his life in that battle.
In the book De Los Delitos, printed in 1800 by Don Baltazar Gonzales in Madrid, Spain, the author tells that it may have been Datu Mangal, the father of Lapulapu, who brought the art of stickfighting to Mactan Island, and Sri Batugong and his son Sri Bantug Lumay who brought the art to the neighboring island of Sugbu (Cebu). Bantug Lumay was the father of Sri Humabon or Rajah Humabon. Humabon was the chieftain of Sugbu at the time when Magellan arrived in 1521.
The tribes of Lapulapu and Humabon were part of the Sri Visayan Empire in the 14th century. After the empire was defeated by the Maja Pahit Empire of ancient Sumatra and Borneo, the tribes became part of a group who eventually settled in the islands of the Visayas in the central Philippines. Another group of those Sri Vasayans, which included the tribes of Datu Puti and Datu Sumakwel, went out and settled on Panay Island.
Lapulapu, even before his momentous meeting with Magellan, had been training his men because of his bitter rivalry with Rajah Humabon, whom he accused of having grabbed a portion of his father's land, particularly the sea area between Mactan Island and Cebu. The feud between these two local chieftains contributed significantly to the early development of the "old" arnis. Lapulapu and Humabon's showdown clash, however, was never realized. Rather, it was in the battle of Mactan where the native martial art was put to a real test against the modern weapons of the foreign invaders.
Thus, when Miguel Lopez de Legaspi landed in the Philippines and established the first settlement in 1565, he and his men noted that the Filipinos were in a class by themselves in the arts of stickfighting and swordfighting. Yet it was not until the 19th century that arnis gained popularity among the Filipino citizens. The rapid growth was attributed largely to the rules imposed by the Spaniards prohibiting the display and carrying of bladed weapons. As a result, the people concentrated on mastering arnis using rattan or a piece of hardwood known as bahi, kamagong, or oway. Also, by disguising their training as stage plays, dances, or dance movements such as the moro-moro, the Filipinos were able to continue their training in arnis with the use of bladed weapons known as kali. A kali is a type of broad sword still popular among the Filipinos today, particularly the Muslims.
Due to the Spanish influence this Filipino martial art came be known as arnis de mano, which derives from the Spanish word arnes, meaning "trappings", or "defensive armor". It also acquired namesakes such as estokada, estoque, fraile, armas de mano, or simply arnis. Among the Tagalogs, it is known as pananandata; to the Pangasinan natives, kalirongan ; to the Ilocanos, didya or kabaraon; to the Ibanag, pagkalikali; to he Pampagenos, sinawali; and to the Visayans, kaliradman or pagaradman, or later, esgrima or eskrima.
The word eskrima is derived from the Spanish word esgrima which means a "game between two combatants with the use of blunt instruments". The name of the stick used in eskrima, made either of rattan or hardwood, is called either olisi, garote, or baston.
Doce Pares Multi-Style System
Origin/History
In March 1932, a group of 24 well known masters of the Filipino martial arts in Cebu City, Philippines banded together to form the Doce Pares Club. (In later years, as the organization became popular, the name was simplified to Doce Pares.) Led by the venerable Eulogio "Yoling" Cañete, the group rose to a high level of popularity and prominence in the Philippines.StyleDoce Pares, as very few perhaps know, does not refer to a single particular style. In reality, it is an assemblage of various styles that were introduced into the organization by the founding masters in 1932. To the credit of the leaders of the organization, these diverse and often contrasting styles were all successfully integrated and passed on to the next generation of Doce Pares adherents.
The following styles each comprise a portion of the group's training curriculum:
· the close range (corto) of Lorenzo and Teodoro Saavedra
· the medium range of Jesus Cui
· the espada y daga and corto orihinal of Felimon "Momoy" Cañete
· the long range of Yoling Cañete and Vincente Carin
· in later years, the corto of Ciriaco Cañete and the "pangamut" of Maximo Cañete
The integration of these styles into an organized, systematic curriculum is largely credited to Yoling Cañete's son, Dionisio. Dionisio "Diony" Cañete is a Grandmaster of the Doce Pares system and a member of the Executive Council.
Grandmaster Dionisio Cañete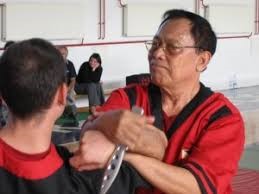 "Diony" to his friends, Dionisio belongs to the second generation of the famous martial art advocates, the Cañete brothers of Cebu City, Philippines. He is the youngest son of Grandmaster Eulogio (Yoling) Cañete, the principal organizer of Doce Pares, who headed the organization since its founding in 1932 until his death in June 1988.
Dionisio began his basic lessons in the Filipino art in 1946 at the age of eight from his father and brother Iluminado, the eldest of five children (4 sons and a daughter) of Eulogio and Irenea Aventurado. Three years later, he studied more techniques of the art under Grandmaster Felimon "Momoy" Cañete and later with Grandmaster Ciriaco "Cacoy" Cañete, both younger brothers of his father. Diony also trained with other masters of the organization, including Grandmasters Vicente Carin and Maximo Cañete (whose specialties were knife and empty-hand fighting).
In 1950, during the golden era of boxing in Cebu, he was attracted to the sport and for five years regularly sparred and trained with several good amateur and professional boxers of that time. His love for the sport almost cost him his studies. He was made to choose between a college education and boxing by his parents. He opted to concentrate on his studies.
In 1957, together with his brothers, Diony was introduced to Kodokan judo. He took up the sport seriously and participated in several local and national tournaments. His judo training lasted until the mid-60's when he was already a lawyer.
His experience and training in judo, boxing and eskrima proved to be a great advantage in broadening his ideas and perspectives about martial arts. His combined knowledge in the three disciplines became a big plus. It's no wonder he moves adroitly and with refined ease either in long, medium or close ranges, utilizing espada y daga, empty hand, or knife fighting techniques.
During the fifties, Diony was a constant witness to so-called eskrima "death matches" involving prominent names in Cebu and the neighboring provinces. These sparring sessions, which were usually held on weekends, called for protagonists to fight with the use of olisi without any protective gear. His personal experience to these bloody fights served him well. It offered him, years later, significant guidance when he drafted tournament rules that eventually "civilized" eskrima sparring matches. The said rules have been, since then, widely accepted and adopted in most tournaments.
Through the prodding of his father and uncles, Diony became actively involved in Doce Pares in the late 60's. Immediately upon his election as one of the officers of the organization, rules on the acceptance of students and membership were liberalized. The group also started a program to promote and develop eskrima not only to become a more popular martial art but also as a wholesome spectator's sporting event.
Realizing that the popularity and further development of the art wouldn't prosper without the concerted effort of other major clubs and well-known masters, early in 1975, he initiated the formation of the Cebu Eskrima (Arnis) Association. All major eskrima clubs in Cebu banded together for the first time. It brought under one organization all the rival groups and masters, who had, for many years past, figured in a number of "death matches". Such big names as the Bacons, Villasins, Velezes, Caburnays, Paezes, Marangas, Atillos, Lasolas, Arcillas, Carins, Culanags, Sanchezes, Navarros, Dinampos, Cañetes and many others were in the organization. In succeeding to organize and band together all the top eskrimadors, Diony, in effect, "civilized" the fight-oriented masters and curbed them to learn to co-exist for the sake of the Filipino art.
The co-operative attitude of the big names in the art resulted in the staging of the First National Arnis Festival on March 6-7, 1976 at the University of San Carlos Gym in Cebu City which, incidentally, was the first major event held under the auspices of the National Arnis Association of the Philippines (NARAPHIL). More than 50 masters and Grandmasters from all over the Philippines attended the event. Participants from different clubs performed and showcased their individual styles or systems. It was during this event that the group devised the plan to hold a national tournament. Diony volunteered to prepare the tournament rules and design the appropriate protective gear. The subsequent approval of the tournament rules and full-contact gear by NARAPHIL cleared the way for the holding of the First National Arnis Open Championships at the Cebu Coliseum on March 24, 1979. This was followed by the First National Invitational Tournament at the Philippine National College Gymnasium in Manila on August 19 the same year.
With the successful organizing and executing of three major events under his belt, Diony continued his relentless efforts to promote the art. In the late 70's and early 80's, Diony began to conduct seminars and workshops in various places in the USA, and even went to Europe for the same purpose of promoting the Filipino art. He was the first Filipino instructor to visit the USA for the sole purpose of promoting and propagating eskrima back in early 1975. With him were his uncle Grandmaster Ciriaco "Cacoy" Cañete, his cousin Amorito Cañete (a lawyer) and David Odilao Jr., a collector of customs.
His dogged pursuit of pushing the art to attain a certain level of popularity paid off. On October 15, 1988, the First National USA Eskrima Kali Arnis Championships was held in San Jose, California. On the other coast, the First Eastern USA Arnis Championships was held in Jersey City, New Jersey on May 15, 1989. These two tournaments were made possible through the all-out assistance and initiative of Arnulfo Cuesta, Fred Bandalan, Edward Abinsay, Leo Fernandez and others. The two US mainland tournaments were actually the prelude to the First World Eskrima Kali Arnis Championships in Cebu City on August 11-13, 1989. It was during this world tournament, with participants from ten countries, that the World Eskrima Kali Arnis Federation (WEKAF) was organized. As a fitting tribute to his dedication and devotion to the promotion of the art, Diony was elected Charter President. He headed the world body in its infant stage until a new set of officers was elected during the Second World Championships and Congress in Manila on January 25-27, 1992. Muntinlupa Mayor and Metro Manila Authority chairman Ignacio Bunye succeeded Diony as president.
In recognition of the imperishable achievement of putting the Filipino art on the map of the martial arts world by successfully holding the historic full-contact stickfighting tournament in Cebu, Diony was selected as Sportsman of the Year by the Sportswriters Association of Cebu (SAC) in 1989.
Leadership and talent were qualities not wanting in the man. He was a consistent scholar during his student days and was the top performer in his classes. He graduated valedictorian when he earned his Bachelor of Arts degree, and Cum Laude when he completed his Bachelor of Laws degree (LLB). In 1961, at the age of 22, he passed the Bar Examination and became a full-fledged lawyer.
Diony has pruned down his active participation in various activities related to eskrima, and in fact, has turned down requests for seminars and appearances. His private gym in Cebu, however, remains a popular training place for students and instructors, especially those coming from other countries. He sees to it that the visitors are well attended to, and are assured of learning what they want to know about the art. He still makes himself always available to render service to WEKAF and NARAPHIL.
He now spends most of his time attending to his personal business as president and manager of Meadowland Realty (a housing development company), Gervince Trading Inc. (an export and trading firm), a logging and lumber business enterprise in Basilan province in Mindanao, and an insurance brokerage in Manila. He still shares his time with Doce Pares as the Dean of Instructional Staff (brother Eulogio Jr. was elected the new president on January 1, 1993), and with the integrated Bar of the Philippines (Cebu chapter), a National Lawyers Association, where he served as president from 1982-1985.
Grandmaster Arnulfo "Dong" Cuesta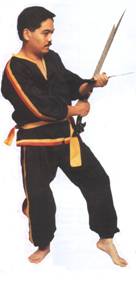 Grandmaster Arnulfo "Dong" Cuesta
Dong Cuesta's eskrima odyssey began in his early life, and was influenced by a variety of circumstances and incidents. As early as the sixth grade, Dong became involved with a local gang. Stunts such as jumping off moving cargo trucks eventually led to petty theft and more serious incidents. Dong ended up as a runaway living in a house with other gang members in Pasil, the most notorious place in Cebu, akin to Tondo in Manila. Eventually, some members of the gang were arrested for murder.
In order to escape the perils of gang life, Dong took advantage of a very old offer from his neighbor, Grandmaster Cacoy Cañete, to join and practice at his gym. Dong began training in the Doce Pares system with Cacoy's son, Edgar, who at the time was concentrating on dumog (joint locks and takedown techniques). Dong's skill developed at a very fast pace. His goal was to acquire enough knowledge and skill to be able to defend himself against his old gang, which looked unfavorably upon members who attempted to quit. Fortunately, the gang eventually broke up and ceased to exist. Nevertheless, Dong's love for the art continued to bloom, and soon he was a very dedicated practitioner.
Impressed by Dong's talent and dedication, Grandmaster Momoy Cañete offered to train him personally. GM Momoy trained him in solo baston, doble baston, espada y daga, latigo, and combat judo. He placed an emphasis on grace in execution as well as proper technique. Dong developed the utmost respect for GM Momoy's skills. GM Momoy also practiced oración, and once used it to heal Dong during a time that he had become very ill.
Dong would also take advantage of opportunities to practice with GM Cacoy Cañete, who emphasized eskrido/dumog and sparring. Sparring was GM Cacoy's forte, and in Dong's opinion he was the quickest.
After being away for a few years due to his hectic schedule attending law school and building a practice, Diony Cañete came back into the picture. Dong was immediately impressed with his talent and skill. Diony taught and guided Dong in all of the Doce Pares sayaw (forms). Dong feels that Diony is the instrument of success within the Doce Pares system and will probably become its greatest Grandmaster. Diony typically does not want to acknowledge himself worthy of the title, but everyone recognizes his talent and qualifications.
Dong's favorite aspects of eskrima are sparring and sayaw. He won first place in both the single and double stick sayaw divisions at the First WEKAF World Championships in Cebu in August, 1989. He enjoys demonstrating that sayaw is an important training tool which improves strength, speed, and coordination of the hands, body, and feet. His dedication to the art has led him to a level where he has been able to fathom the depth of the art of eskrima and that of the Doce Pares system.
Dong firmly believes that eskrima should be introduced as both a combat art and a sport. The growth that he sees in his own school, as well as the increase in the number of schools in the U.S., leads him to believe that eskrima could become the art of the next decade. He hopes one day to see the rivalries between eskrima systems and Grandmasters disappear, so that everyone can unite for the sake of the art and its heritage. He feels that everyone should be working towards the common goal of developing, promoting, and preserving the Filipino martial arts.
Grandmaster Steve Wolk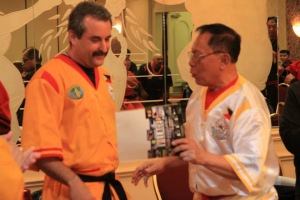 Steve Wolk began his formal martial arts training in Shotokan karate in 1980 in San Diego, California. In 1984 he began to study a blended system in Berkeley, California under Sensei Miguel Estrada, an open minded martial artist who regularly invited instructors of other styles to teach his students. Because Sensei Estrada was impressed with the skill and knowledge of the Filipino martial artists, he invited Guro Ed Abinsay to teach his students basic weapon techniques in 1985. Steve quickly became enamored of the Filipino arts, and began training regularly with Guro Abinsay,
Soon after, Guro Abinsay and his students began formal training under Grandmaster Dionisio Cañete of the Doce Pares system. Steve thus had many opportunities to train with GM Cañete on his frequent visits to the U.S. In 1988, Steve's career led him to settle in eastern Pennsylvania. In order to continue his training in Doce Pares, he began traveling to New Jersey to train under GM Arnulfo "Dong" Cuesta, a student of GM Cañete's who had been teaching in New Jersey since 1981. Steve has traveled to the Philippines five times to compete in tournaments and to train with GM Cañete and the various Grandmasters of the Doce Pares system, including GM Cacoy Cañete. He has also trained with Grandmasters Percival Pableo and Danny Guba.
Steve relocated to Denver, Colorado in 1995 for career purposes and with permission from GMs Cuesta and Cañete, founded PIMA Denver. Under the auspices of PIMA Denver he began holding weekly classes at local dojos, as well as sponsoring Doce Pares seminars in the Denver area. Steve has also been a guest instructor at various martial arts training camps around the U.S. In addition to teaching Doce Pares, he co-authored Master Cuesta's curriculum, edited Grandmaster Cañete's 1st book, Eskrima Kali Arnis, has co-authored an article for Black Belt magazine on the tapi-tapi principle of Doce Pares Eskrima, and authored one of the forward's for GM Cañete's book on Espada y Daga. He retired from WEKAF competitions in 2004, with 6 world sparring titles and 1 forms championships. No other competitors has won world titles in 6 different world championships.
In May of 2013, he was promoted to Grandmaster, the first non-Filipino to achieve this rank in the Doce Pares Multi-style system.
Achievements
• 1989 – World Champion, WEKAF Supermiddleweight Full Contact Sparring
• 1992 – World Champion, WEKAF Middleweight Full Contact Sparring
• 1996 – World Champion, WEKAF Middleweight Full Contact Sparring
• 1998 – World Champion, WEKAF Middleweight Full Contact Sparring
• 2002 – World Champion, WEKAF Senior Light Heavyweight Full Contact Sparring
• 2002 – World Champion, WEKAF Senior Traditional Forms
• 2004 – World Champion, WEKAF Senior Light Heavyweight Full Contact Sparring
• 2013 – Rank of Grandmaster, 9th degree black belt, Doce Pares Multi-Style System